Back to All Press Releases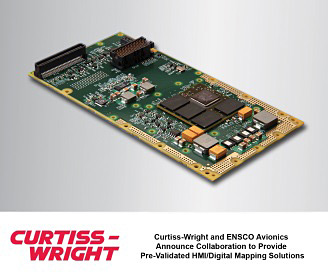 Endicott, N.Y., August 15, 2014
ENSCO Avionics, Inc. is pleased to announce our collaboration with Curtiss-Wright in providing our IData Vision Systems® family of products as part of their System Ready Application (SRA) initiative.
IData Vision Systems®, a product line of ENSCO Avionics, has collaborated with Curtiss-Wright's Defense Solutions division to provide the IData® Tool Suite and IDataMap plug-in HMI tools under Curtiss-Wright's System Ready Application (SRA) initiative. These tools will provide support to Curtiss-Wright's XMC-715 graphics controller mezzanine card and VME-186 single board computer (SBC).
"Getting an embedded system to provide optimum performance requires close collaboration between hardware and software components," said Ray Niacaris, Director of Business Development for the IData product line of ENSCO Avionics. "By providing customers a proven bundle of hardware, BSP, RTOS, graphics drivers, and HMI tools, our customers can focus on producing their application, rather than getting the various system components to work together. A suite of graphical applications is tested on the selected Curtiss-Wright hardware, assuring customers that the system components are optimized for graphics-based HMI applications."
"We are very excited about collaborating with ENSCO Avionics to provide our customers with a cost-effective, proven solution for HMI and digital mapping," said Lynn Bamford, Senior Vice President and General Manager, Curtiss-Wright Defense Solutions division. "Our System Ready Application combines IData Tool Suite and IDataMap plug-in HMI tools with our single board computer and graphics module solutions to reduce design risk and cut costs and time to market."
The IData Tool Suite is a Commercial-off-the-Shelf (COTS) software development toolkit for creating and deploying Human Machine Interface (HMI) applications in safety-critical environments. IDataMap is a powerful add-on module to IData that offers HMI developers the ability to add high-performance and high fidelity 2-D digital moving maps to their displays.
About ENSCO Avionics, Inc.
For more than three decades, ENSCO has been a prominent avionics development partner, enabling the advancement of sophisticated airborne systems. Today, ENSCO Avionics, a wholly owned subsidiary of ENSCO, Inc., based in Endicott, N.Y., is a premier provider of safety- and mission-critical engineering, software and programmable hardware engineering, and synthetic vision systems. Our synthetic vision and mapping solutions feature our IData® Tool Suite, a cross-platform software development toolkit for creating and deploying high-performance display applications, and IGL™, a high-performance OpenGL® SC software-based GPU. Our avionics and aerospace industry focus includes DO-178B/C, DO-278A, and military standards.
About Curtiss-Wright Corporation
Curtiss-Wright Corporation (NYSE:CW) is a global innovative company that delivers highly engineered, critical function products and services to the commercial, industrial, defense and energy markets. Building on the heritage of Glenn Curtiss and the Wright brothers, Curtiss-Wright has a long tradition of providing reliable solutions through trusted customer relationships. The company employs approximately 10,000 people worldwide.